Welcome to Sledge Concrete Coatings! We are experts at providing acid stain concrete coatings in Phoenix, Arizona and have been serving the Valley of the Sun since 2002. In addition to offering acid stained concrete, we also conduct
epoxy floor
,
cool deck
,
faux flagstone
,
metallic finish
,
patio paver
,
polished
, and
specialty flooring finishes
.
100% FREE Project Quotes
Quality Craftsmanship
Affordable Pricing
Customer Satisfaction Guaranteed
Recent Customer Reviews
Very professional, on schedule and on time, has long tenured, happy employees who care and have pride in their work, and I am extremely pleased with the floor!
Excellent service. Professional, knowledgable, arrived on time, finished on time, delivered exactly as stated they would each day of the process. Would Definitely use this company again, & recommend to others. Best experience with a contractor Ever!!!
I found Sledge to be 100% accurate in describing their service and delivering on time with excellent attention to detail. The floor looks great and I already have been asked for referrals.
---
Acid Stain Concrete Coating Information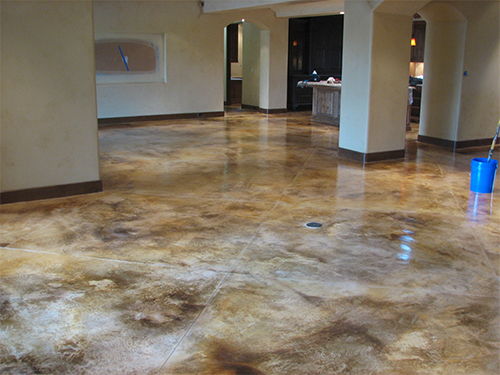 After living at the same property for a number of years, you may notice your concrete floors have degraded, causing them to look shabby and your home to appear dated and old. The same is true with retail, restaurant, and other commercial spaces, where high foot traffic damages the floor over time. An acid stain concrete coating transforms living and work surfaces into beautiful works of art, invigorating your entire surroundings.
Reactive & Non-reactive Concrete Stains

You have two options for concrete stains: reactive and nonreactive. Reactive stains are more commonly known as acid stains; nonreactive stains are dyes. Your choice depends on your desired result.
Acid stains are water-based, acidic solutions that contain metallic salts. These salts react with the concrete's lime content, creating natural effects, including color variations and mottling such as you see in granite and marble. Color changes are limited to soft earth tones, including browns, tans, soft blue-greens, and terra cotta.
Dyes are also water-based, but these acrylic solutions produce no chemical reaction with the concrete. Dyes offer more striking color options, which may also be mixed and blended to create a full palette unavailable with acid stains.
Some people prefer dyes because they offer much greater color choice. They also produce fewer fumes and use less water during application. However, most tend to prefer acid stains, as they create a much more dramatic effect due to how they interact with the concrete.
Benefits of Acid Stained Concrete

To enhance commercial or residential concrete floors, staining is the most popular option thanks to high versatility that lets you achieve whatever look best matches your design and tastes. Concrete staining allows you to add bold design accents, custom graphics, or subtle hints of color. You can choose a single hue or go for a varied color design. Acid staining in particular adds character to the area by infusing the concrete surface with rich, deep, translucent colors. The look is distinct and unique, as no two acid-stained surfaces look the same. This is because the surface itself helps determine the final look, including its age, the concrete composition and porosity, texture, and even environmental factors.
Acid Stain Preparation & Application

Acid staining is a two-day process. On day one, we prep the floor and then spray acid onto the surface. Once we achieve the desired color, we neutralize the acid by applying ammonia. On day two, we protect your new flooring with a coat of either clear polyurethane or solvent sealer.
Get My 100% FREE Estimate!
Click to Call (602) 308-8656
Concrete Acid Stain FAQs
What Does Acid Stain Do?
Acid stains are actually a combination of numerous materials, and when the acid stain is correctly used on concrete, a permanent color will be left on its surface. Learn more…
Will Acid Stain Fade?
Acid stains do not fade. Learn more…
How Long Does Acid Stain Remain on the Concrete Surface?
The length of time the stain remains on the surface depends on the concrete being stained and the type of acid stain selected. Learn more…
How Many Acid Stain Colors Are There?
Typically, stain companies offer eight to 10 standard colors, because the composition of the materials only allows them to use a few earth tone-type colors, such as light tans and reddish tones. Learn more…
How is a Concrete Floor Prepared for Acid Staining?
It is best to create a profile in the concrete, as this helps the stain to penetrate deeper into the surface. Learn more…
How is Acid Stain Applied to Concrete Flooring?
There are numerous ways to apply the stain, and each provides you with a different look. Learn more…
How Long is the Wait Before Stain Can Be Applied to Fresh Concrete?
It is best to allow a 28-day curing period for the hydration water to dry up. Learn more…
How is Acid Stained Concrete Maintained?
It is imperative that you have a maintenance program, as this will greatly increase the life of the stained concrete and sealer. Learn more…
Why Do People Choose Stained Concrete?
Concrete staining offers a distinctive, unique look with great variation for a relatively low cost.
Can I Stain Concrete Myself?
The best results require the use of proper technique with the appropriate tools. Staining is permanent and so are mistakes. In addition, this is a labor-intensive and sometimes dangerous process (particularly if you choose acid stain instead of dye). Consider carefully the value of your time and the full cost of DIY concrete staining. All that said, you can, of course, stain concrete yourself. The real question is whether it's worth it.
Can I Stain Any Concrete Surface?
Yes, assuming the concrete is not covered with coatings, sealers, grime, or glue, which inhibit the stain permeating the surface. You may stain indoor or outdoor surfaces, old or new, plain or colored, including floors, countertops, patios, driveways, and pools.
What Kinds of Effects Does Concrete Staining Offer?
This depends on whether you choose acid stain or dye, but possible effects include tanned leather, natural stone, marble, and stained wood. You may combine dyes and stains for a layered, blended appearance. You can also use stencils to create patterns.
How Much Does Concrete Staining Cost?
As with everything to do with flooring, prices vary widely depending on numerous factors. If your floors require minimum prep and you choose a single coat, your price may be as low as $2 per square foot. As designs become more intricate, expect to pay as much as $15 per square foot.
Can I Change the Color if the Floor Is Already Stained?
Yes, though you can only go darker, not lighter. Your installer must first remove the sealer and then may apply a micro-topping, which is a thin layer of modified concrete that prepares the surface to accept a new stain.
Our Acid Stain Concrete Portfolio of Projects in Phoenix-Metro
Click here to view more of our acid stain concrete pictures.